Juneteenth, also called Emancipation Day, Freedom Day or Freedom Day or Jubilee Day commemorates June 19, 1865, as the day enslaved African Americans in Galveston, TX learned they were free.
While the Emancipation Proclamation was issued by President Lincoln on January 1, 1863 and the 13th Amendment was passed by Congress on January 31, 1865, the news was slow to reach people in Texas.
Finally on June 19, 1865, Major General Gordon Granger with Union troops landed in Galveston and read aloud General Orders No. 3: "The people of Texas are informed that, in accordance with a proclamation from the Executive of the United States, all slaves are free."
Read below to learn more about how you can celebrate Juneteenth near your community!
2022 North Carolina Juneteenth Festival
Concord, NC
June 18th, 1:00 - 5:00 PM

ChenMed & Accellacare present The 2022 North Carolina Juneteenth Festival themed "Educating, Empowering, Entertaining" will feature 80 black owned companies. Crafts, culture, performances, art, kids games, information and more is some of what attendees can expect.
Free giveaways, discounts, and coupons make the vendor shopping experience like no other. Come support black business and black excellence. Recommended for all ages; admission is free. Cabarrus Arena & Events Center, 4751 North Carolina 49, Concord. For more information, see https://www.eventbrite.com/e/2022-north-carolina-juneteenth-festival-tickets-216003511317.
Capital City Juneteenth Celebration
Raleigh, NC
June 18th, 1:00 - 5:00 PM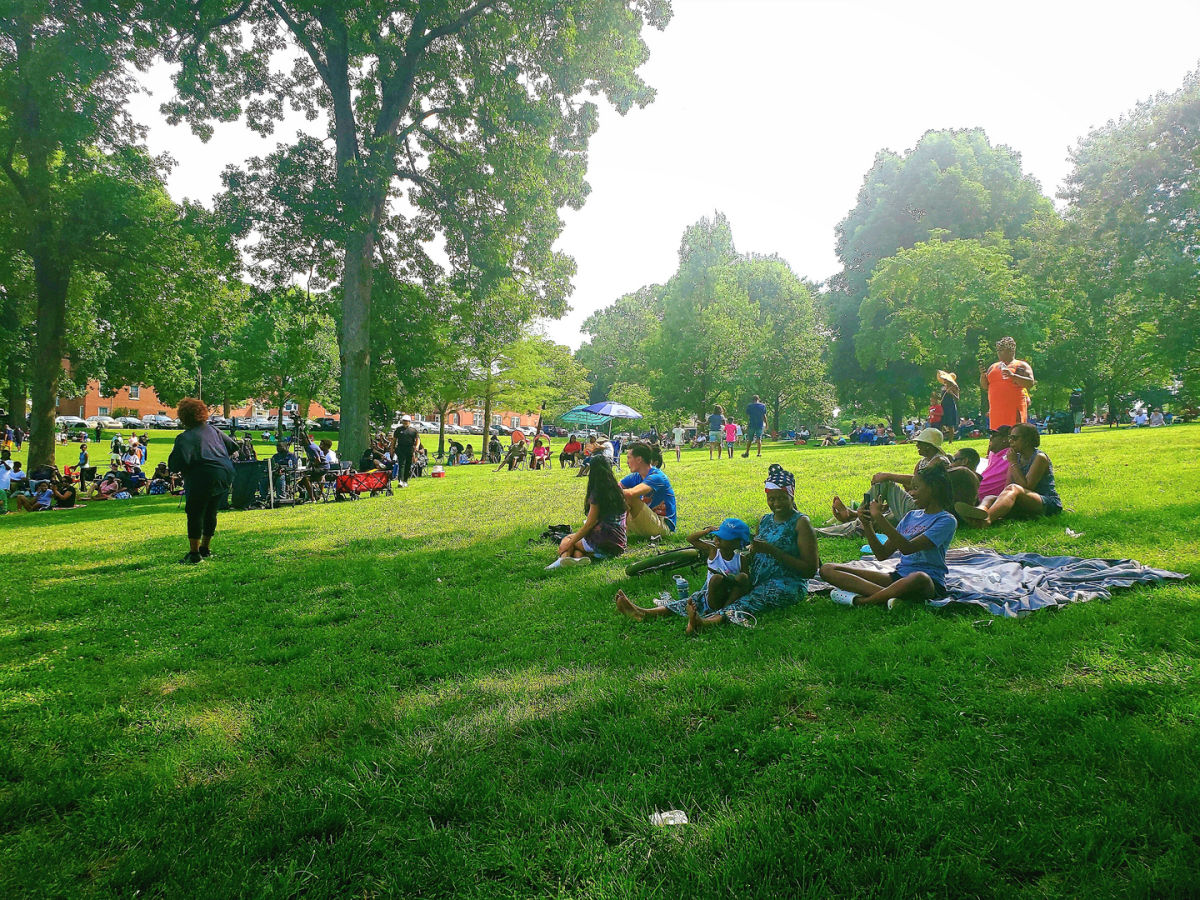 Juneteenth (June 19th) is the oldest nationally celebrated commemoration of the abolition of slavery in the United States. As part of the Capital City Juneteenth Celebration 2022, enjoy an afternoon of entertainment and food on Harvey Hill at Dix Park!
The theme for this year's celebration is "Preserving the Past, Moving it Forward." During this event, the mission is to "to celebrate the freedom of formerly enslaved African Americans by acknowledging their history and achievements through commemorative and historical services and activities."
Bring your lawn chairs and blankets to enjoy an afternoon of entertainment, family activities, vendors and food on Harvey Hill and the Chapel Event Center at Dix Park! Learn more today!
Juneteenth Festival of the Carolinas
Charlotte, NC
June 16th - 19th

Each year, the Juneteenth Festival of The Carolinas celebrates the end of slavery, and the African American community is taking the opportunity to come together to reflect and remember the historical event. Come join us for a peaceful celebration and learn more about the schedule and speakers at our website! www.juneteenthofthecarolinas.com
Juneteenth of Asheville 2022 Freedom Festival
Asheville, NC
June 18th, 11:00 AM - 10:00 PM
Celebrate freedom with the greater Community of Asheville. We will pay honor to our enslaved ancestors while enjoying awesome food and festivities. Join us as we travel to the past in solidarity to those we lost.
There will be parade, vendors, food trucks, art, music, live performances, so much more. Visit the event website for more information!
Juneteenth Jubilee
Fayetteville, NC
June 18th - 19th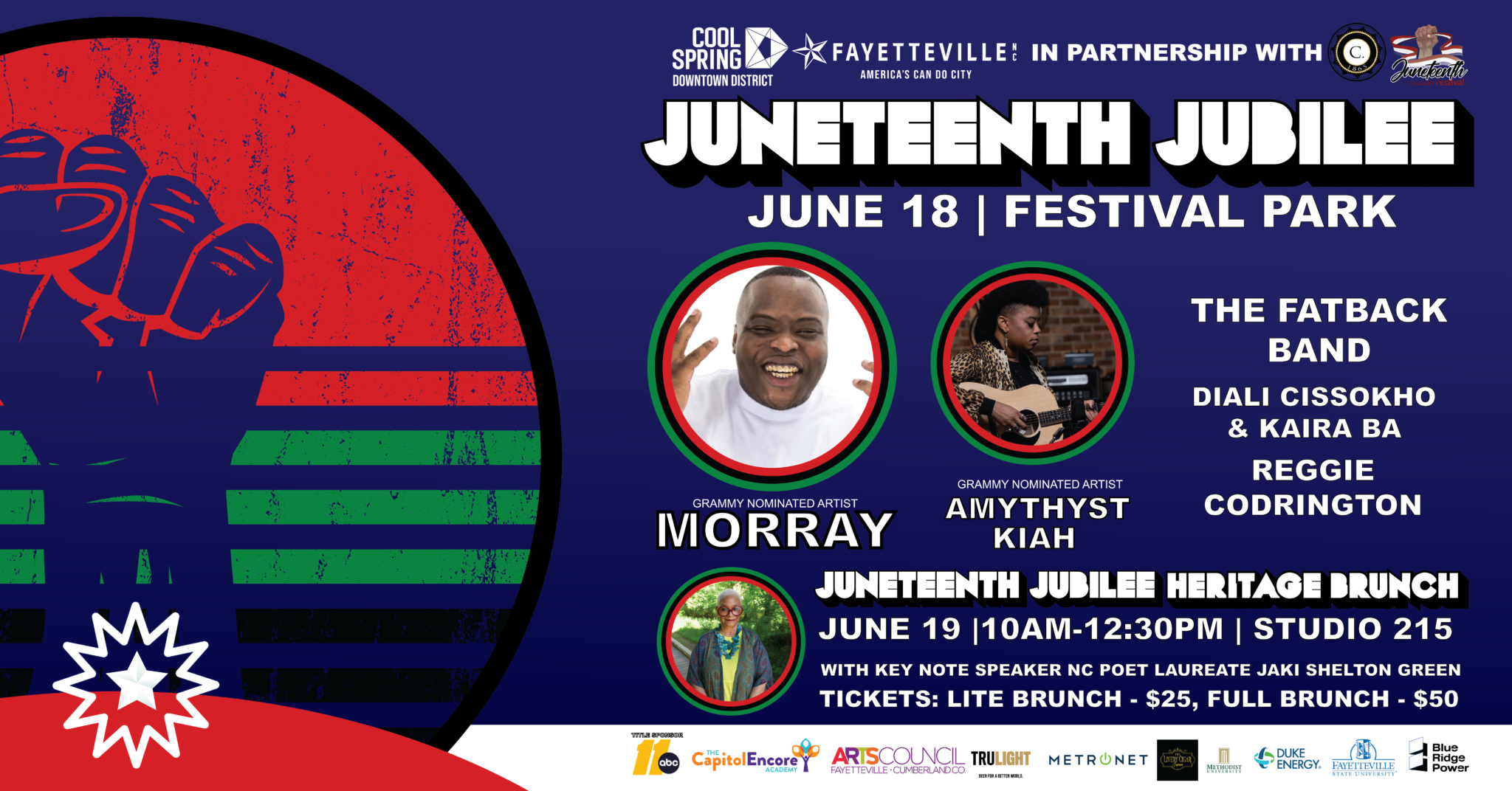 Organizers are pleased to announce the full performance schedule for the 2022 Juneteenth Jubilee, held on Saturday, June 18 from 12:00PM–9:30PM in Festival Park (335Ray Avenue).
In addition to Grammy Award-nominated artists Amythyst Kiah and hometown rapper, Morray, the Jubilee stage will come alive with performances from Diali Cissokho and Kaira Ba, The Fatback Band, and Reggie Codrington. Diali Cissokho follows in the tradition of Senegalese musicians and storytellers known as griots. Together with his band, Kaira Ba–composed of Tarheel natives John Westmoreland, Jonathan Henderson, Austin McCall, and Will Ridenour–Cissokho weaves the traditions and rhythms of West African music with subtle notes of blues and folk sounds from the American South. NPR's Frank Stasio described their sound as "at once unique and universal."